Highland Park Lock & Locksmith Lock Installation Highland Park, NJ
Every homeowner's ultimate nightmare – returning home one night and finding the lock broken and your home ransacked. After you've called in the authorities, getting the lock replaced would be the only concern on your mind, lest your premises become a soft target for burglars again. However, finding a locksmith for lock installation in the middle of the night is not an easy task. Most firms advertize 24/7 services, but when you actually make that call, you'll find their lines off the hook, or receive no response, or worse, be denied service. So, what do you do? If you're a resident of Highland Park, NJ area, you'll never find yourself in such an ordeal, because Highland Park Lock & Locksmith is available to serve you!
How are we different?
For one, we do what we claim to do. You won't find us making false promises or making excuses to bail out on you. To us, customers are the king; and your satisfaction means the world to us. We go the lengths to ensure that every service request is heard, registered, and acted upon, no matter whether it is made at midnight or midday. Ask any of our clients, and you'll find them vouching for our professionalism, on-time service and reasonable pricing.
WE OFFER:
Emergency security upgrades
Just experienced a break-in? Or was the building next to you burglarized and you now fear the same fate for yours? The need for greater security can arise at any time, and that's where our lock installation services can help you. We don't just handle the installation part of it, but provide a comprehensive service, that includes an analysis of the property, an assessment of the security needs and formulation of a strategy that makes use of the best and robust locks to bolster your security level.
Overnight lock installation services: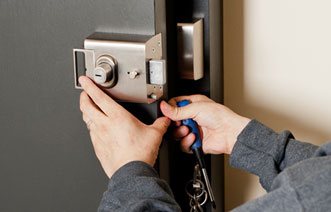 Are you changing hands the very next morning and need to ensure that all the locks are changed by then? Don't worry, we're ready to help you with lock installation , even if it is at a moment's notice. We arrive on our well-stocked vans that are replete with all the necessary tools and a wide assortment of locks, to accomplish the task in a single session. Depending on the number of locks that need to be installed, the time frame varies. Usually, we take anywhere between 1-3 hours for large establishments.
Want to hire our lock installation service in Highland Park, NJ right now? Pick up the phone and dial 732-837-9257 ; we'll reach you within 15-20 minutes.