Highland Park Lock & Locksmith Locked Keys In Car Highland Park, NJ
Have you ever locked keys in car ? You're not alone! A momentary memory lapse can cause you to forget to take your keys with you before slamming the door shut. All is not lost – and you can still regain access, provided you're smart enough to know where to look for help. In a desperate bid for reentry, people resort to watching online videos, or reading blogs filled with tips on gaining access. It's only after exhausting all the options, do people turn to a locksmith for help.
DIY vs. professional help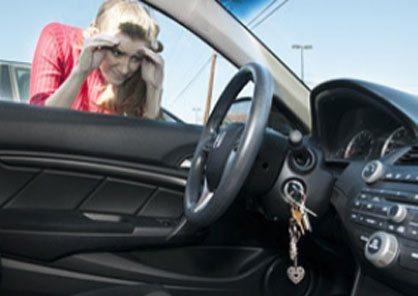 The idea of doing something yourself, without having to pay a technician's fee, sounds tempting enough, however, you need to contemplate the aftermath of your actions. Using a coat hanger, a slim Jim or any other means of unlocking your car can cause irrevocable damage to the car lock or the vehicle itself, if anything goes wrong. Rarely, does this work in real-life scenarios. Also, there's no surety that your car will be unlocked after all the abuse you've put it through.
Most tutorials make it look easy, but ponder this: if it were that easy, wouldn't car thefts be on an all-time high? The only way you can be sure of regaining entry without having to wreck your car or your lock is by seeking professional help.
Whom do I call?
If you've locked keys in car , you might consider towing it to the nearest mechanic or dealership for unlocking. That option, however, is not going to come in cheap and is time-consuming. What if you're locked out of your vehicle at an odd-hour and everyone you thought could help you is unavailable? If you live in Highland Park, NJ area, help is just a phone call away. Highland Park Lock & Locksmith is available 24/7 and we won't even ask you to tow your vehicle to us; we own a fleet of vans and can get to your location in no time.
We'll retrieve the keys locked in car
It's common knowledge that car key replacements do not come in cheap. If you hire a random locksmith, there's a chance that the technician will attempt to dupe you into procuring a new key to unlock the vehicle. Do not fall for it! Our technicians can get the car unlocked in a matter of minutes, irrespective of the make or model of the vehicle. This allows you to use your old keys and gets the job done with minimal expenditure.
Locked keys in car ? Trust us for reliable, quick and affordable service! Call 732-837-9257 now!