Highland Park Lock & Locksmith Residential Master Key Lock Highland Park, NJ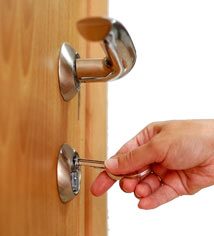 Do you lose track of multiple keys and have to rekey the locks or get spares made often? With a residential master key lock , you can bid adieu to all your key management woes. Designed to minimize the number of keys used to access a particular space, this system provides a host of other advantages to residential property owners. Want to explore more? Read on:
Benefits :
Minimizes number of keys used:
You don't have to rummage through a whole bunch to entangle a single key. This system allows you to open up all the locks with a single key.
You can establish differential level of access in your residential complex. The owner holds the master key while each building supervisor holds a sub-key. On a smaller scale, you can designate access within a property; you hold access to all the rooms, your children are allowed only into specific areas.
If you've lost the specific key to the lock, you can always fall back on the master. This key would generally be with your building supervisor and can be used to gain access. It also allows access into the property during emergencies, such as a fire break out or a gas leak.
How do I avail this system?
By contacting Highland Park Lock & Locksmith ! We're a renowned locksmithing agency in the Highland Park, NJ area and can help you experience the numerous advantages that these systems offer. We will:
Study your requirements : What kind of access do you want to establish? A simple residential master key lock setup or are you aiming to establish hierarchical access? We'll first understand the specifics before proceeding.

Assess your property: We'll carry out a complete assessment of your property; the number of access points, the types of locks, the condition of the locks, and more.

Devise a plan : We'll devise the entire plan on paper, and verify if it meets your specific requirements.

Convert existing locks: The existing locks are rekeyed to residential master key locks. Their internal configuration is made to align with a new system that answers to both its unique key and the master.

Craft keys: Various sets of keys are made to open the locks

Cross -check operation : We'll follow it up with a verification to check if all the keys made work as per design with the newly rekeyed locks.
To get residential master key locks in your property today, call 732-837-9257 !